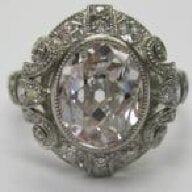 Joined

Jun 6, 2010
Messages

6,863
Let me preface this by saying that I may take Dreamer's sage advice and set the stone in a super simple solitaire, since my goal in selling my 5+ ctw ering was to have something smaller that I would be comfortable wearing everyday, as opposed to a gorgeous ring that I rarely wore at all. That said though, I am not typically a solitaire kind of girl and am usually attracted to three stone rings. I have also found a couple of halo's that I really like. For reference, the stone measures 9.26x7.60x5.52mm and my ring size is a 5.5. Here's a couple of photos of the stone: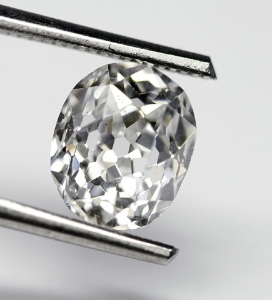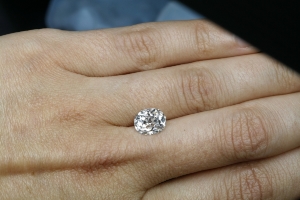 Here's a photo showing the settings that I really like, if I were to decide to set the stone in it's "forever" home as opposed to what may be a temporary solitaire setting: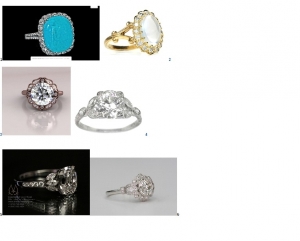 I have spoken with Victor about making the halo ring with a shank like the one on the moonstone ring (though more delicate) and the halo using single cut stones in a milgrained semi-bezel like the paraiba ring. (images 1 & 2). My other favorite is #6, which is a Singlestone setting. Heather is currently putting together a CAD that would show me what the oval stone would look like in that setting.
So, which is your favorite setting and why? If you don't care for any of them, I'd love to see what you'd do with this stone if it were up to you....
Thanks!
ETA: Not sure why the photos of the stone are so large and the rings are so small...I'll work on that and try to post a better photo shortly.