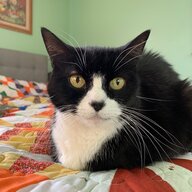 Joined

Aug 14, 2018
Messages

1,226
Hi All,
I am resetting the stone from my three stone e-ring into an octagonal setting and have been working with DK. I got the little plastic mold in the mail yesterday. Was hoping to know your thoughts. When I saw it compared to my original ring, I was like "wow is my diamond really going to fit in that setting?" bc to me it looks smaller. But I did the measurement and yes the setting is over 8mm and my cs is 6.8 at the longest point. I was inspired by the VC ring (pictured below) but also like the idea of having little bezeled stones instead of the roundels on the VC (see inspo pics). Anyway I think my three stone is also set up higher so maybe that's also why it looks bigger to my eyes. Do you think my diamond will look smaller in this setting or is it just the weirdness of seeing a plastic ring as opposed to real metal and stones? Thoughts and suggestions appreciated. If you think it will look smaller any ideas on what to change? I'm posting a pic of the inspos, his drawings, as well as pics of the mold. I never did get those computer looking cads that I see others have posted; is that later or not at all? I wondered about that...
Inspo pic: setting similar to this but not in star position, and instead of those notch thingys, bezeled stones like in this pic: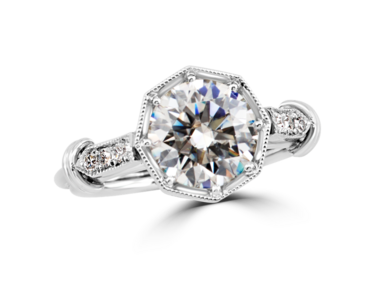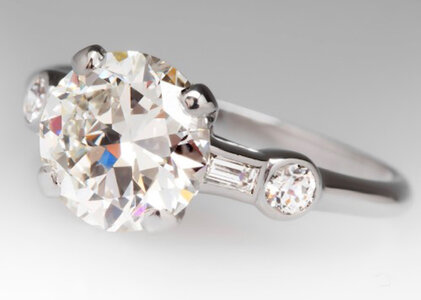 I didn't want tapered baguettes so opted just for plain plat band then the bezeled stones; here are the drawings: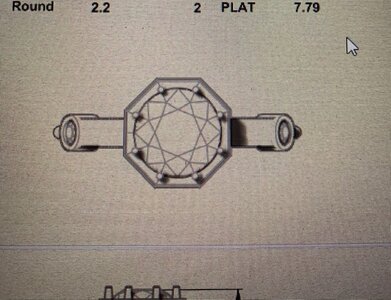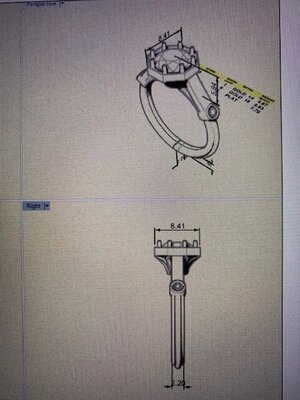 I decided that the band looked a little too plain so we are adding some stones in the band (like you see in the first inspo) in addition to the bezels. I don't have a drawing of that. But it's shown in the plastic mold.
Then my ring and the mold: