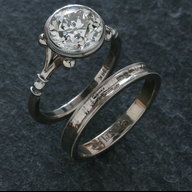 Joined

Nov 20, 2008
Messages

157
My quest to turn my sad looking diamond into a real sparkler as seen here on the forum started a little over a month ago
https://www.pricescope.com/community/threads/planning-to-have-diamond-recut.101256/
After I had made my decision, I was disappointed to hear that
Brian Gavin
(aka BrianTheCutter) had left
Whiteflash
and they are not accepting any stones for recutting for an unknown period of time. I was really bummed, but now I am excited to say I have been in touch with Brian and (Lesley H.) through his blog at brianthecutter.com and today I shipped off my ring for evaluation and hopefully an "Extreme Makeover" of my 2.47 lifeless diamond.
Brian and Lesley are establishing a full service operation and currently have a jewelry workshop in place with full CAD capabilities. I expect there will be announcements, but for now they can be contacted through the website.
Here is my sad looking ring, with the off center head, and wonky prongs. I hope to upgrade the setting later in the year, but for now I will be thrilled with a recut and head adjustments.