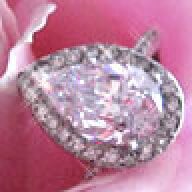 Joined

Jan 25, 2005
Messages

12,145
I have been enjoying my new pear setting and matching wedding band immensely, after the whole saga of having it made. Since that time, I have done a few things that I wanted to "share with the group"...

First, one night at a restaurant, I had my hands in my lap and went to pick up something with my left hand...well, my hand got caught on the rim of the underside of the table and THWACK! I hit my ring, HARD. This slightly bent the head forward (when I brought it in the jeweler didn''t notice, but it bothered me to no end) but did not send it flying (thank God...I''m sure this was because it was cast in one piece, instead of the head being soldered on). So I decided to have support bars put underneath the head. At first they only put on one, near the tip of the pear, but I felt like it looked as if it was an afterthought (though it was!) so I had them put a matching one on the other side.
I haven''t gotten around to taking any decent pictures, so the ones below are all I''ve got. I still need to get out in some sunlight and take some flower shots, but till then...these are all indoors underneath track lights.