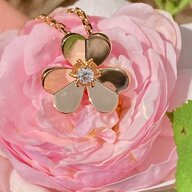 Joined

Mar 6, 2014
Messages

276
I'm so pleased to share the custom pendant that Maytal Hannah created for me to commemorate my 15 year wedding anniversary.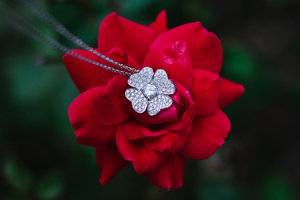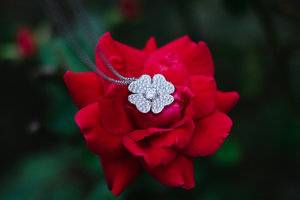 Long story and lots more photos below...
I marked the occasion by resetting my original e-ring diamond, a .38 ct uncerted mall stone that I hadn't worn in many years (we were still students when engaged). I liked the idea of a flower pendant with the e-ring diamond in the center surrounded by four heart-shaped petals to symbolize my family of four (me, husband, two kids), and lots of sparkly pave to compensate for the middling quality of the diamond. I wanted Maytal to make the pendant, since she did a wonderful job when she created my 10 year anniversary ring five years ago. (For the ring, I also contacted Victor Canera, Steven Kirsch, and Leon Mege. For the pendant, I just went straight to Maytal.)
I emailed Maytal with my thoughts, along with the Van Cleef Cosmos and Frivole and Tiffany Paper Flowers lines as inspiration. She quickly got to work, creating over a dozen potential design sketches (with my feedback between each group). Deciding on a custom design and size was challenging for me, and I found it very helpful to print out the sketches to "try on." As soon as I held the options up to my chest, there was a clear winner.
The final design is most similar to the Van Cleef Cosmos (if you're familiar), but with organic and asymmetrical petals instead of pure hearts, more of an overall flower look than a clover look, undulations in the petals instead of overlapping, and a petal-up orientation. Here's a photo Maytal sent of the pendant prior to the melee being set.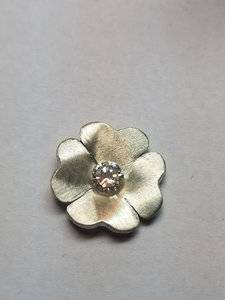 The entire process - from sending my stone to receiving the completed pendant - lasted a bit less than two months. Pretty quick, and I'm sure this timeline would have been shortened, had I been more decisive.
Maytal is wonderful to work with, easy-going and kind and great at communication. Our communication consisted of one phone call and a long thread of emails. Gmail tells me there are 60 messages in the thread (yikes!) but only about 20 are design-related and the rest are for shipping, payment, confirmations, thanks, etc.
I received the final product this morning, and I could not be happier. The melee is tiny and placed with remarkable precision. There is absolutely no metal showing between the diamonds in real life - none. Maytal is a pave queen. Feels sturdy, but looks delicate. Suuuuuper sparkly, feminine, clean. The size is 16 mm, which looks quite a bit larger than I expected once pave diamonds are lighting up all over the place, but I'm not complaining! (My 3-year-old daughter's review: "You have a new necklace, Mama! I love how it's SO SPARKLY!")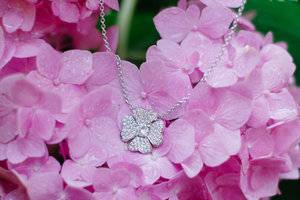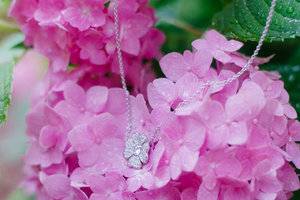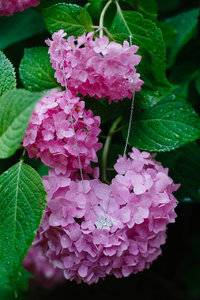 (I find the back of the pendant so charming, such a contrast from the ultra-sparkly and polished front and a reminder of the hand-forged nature of the piece.)
I'll post a few more photos below, and I'll try to take a video soon to capture the incredible sparkle. (I took these photos in the rain at dusk, not the ideal lighting for sparkles).