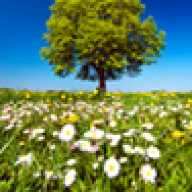 Joined

Feb 10, 2010
Messages

151
Omg omg! It's so beautiful! I might be biased, but I think they are the prettiest rings on their site.

This will be my wedding set.

The e-ring will be the new home for my OEC, and it will be in 18kt yellow gold.

I know it's out of vogue now and most people aren't a fan, but I love yellow gold! It looks better with my skin-tone, when I think of wedding bands I always think of yellow gold, and the OEC was originally set in yellow gold and it looked
fabulous
(it's a J color stone). I love the contrast of yellow gold against sparkly white diamonds.

I think I'm going to ask them to scale down the size of the flowers on either side of the OEC (right now it seems like they kind of compete for attention), and see if they can make the flowers lay down flat like the leaves do. (the flowers are morning glories, my birthflower
On either side of the wedding band, there will be an aqua sapphire, and a green amethyst, our birthstones (we just aren't fans of the standard colors of our birthstones lol). The stones on the e-ring are white diamonds, as are the 3 center diamonds on the wedding band (coincidentally, the birthstone of April, the month we're getting married).
I'm thinking of asking them to add milgrain to the side stones, but we can't decide. John likes them as-is, and I like them as-is too, but think some milgrain to tie into the bezel might be nice.
Also thinking of having the leaves done in a satin finish, what do you think? If so, should we give the flowers a satin finish too, or keep them polished?
So excited!! I wish I could sit here and stare at them all afternoon.