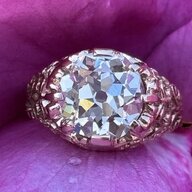 Joined

Jul 10, 2012
Messages

256
Hello friends! After three long months, I am excited to finally share my big mama OMC with everyone.
The stone is a 6.21 carat, early 1900s antique cushion. It's graded GIA N/VS2 with slight fluorescence. There's no way you'd ever guess it was an N! It faces up extremely bright, and it's a chunky monkey with large facets and some wonky angles that catch rainbows like crazy! The stone measures 11.79x11.41 - from corner to corner it measures approx 12-12.31.
I have a bunch of pics and videos, so I'll try to spread them out...
I'll start with some pro pics by Anup and Lenny at Jogani, who I worked with to complete this amazing ring!
http://instagr.am/p/CFkwaYkBhDx/