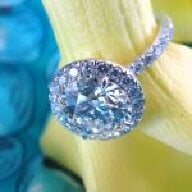 Joined

Jan 30, 2010
Messages

1,807
I finally own a 2+ carat diamond. I love her!! She has been around for a long time and is a bit ragged at the edges (literally!!!) but it cannot take away from her pastel kaleidoscope amazingness!!

It was a bit of a journey, as I originally selected an OEC. It was truly stunning and it even got the, in person, thumbs up from our very own Gem Fever. Unfortunately, the colour did not suit my skin tone. Looked fab on my golden skin toned daughter. Not so much on me! I will do a separate thread on her because like my OMC, she was very photogenic. Adam still has her I believe, in the setting that he had made for me.
After making the very hard decision to return the OEC I took a leap of faith and went for the OMC. I am so glad I did. She is incredibly white and the colours!!! Oh the colours are amazing!!
Adam made my setting for me. I just adore it. Its everything I wanted. I cannot say enough good things about Adam. It was a very difficult time personally, as I lost my brother, very suddenly. Adam gave me all the time I needed and dealt with the many fedex issues, patiently and thoroughly. The return of the OEC and sending of the OMC was the stuff of legends, but he came through for me, every single time. Like I said, I cannot recommend him and OWD highly enough.
I will not bore you any more. Here is my Old Gal. I named her Tallulah, after the nickname my dear brother gave me when I was little. Apparently, I was somewhat precocious!!!
She is an EGLUSA J/SI1. 2.18 carat, 7.97 x 7.54 x 5.36mm. The setting is 18 carat white gold and I am a size 4.5. The larger OEC in the picture is the one I returned.