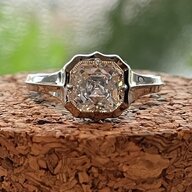 Joined

Mar 2, 2013
Messages

6,300
steviedsgirl|1483058306|4110541 said:

Help help! Years ago, when a particular online auction site was new and wild and there were deals to be had, I bought an OEC diamond set in 18kwg. It's a lovely stone, about .75 of a carat, L-M color, supremely clear, and lots of chunky fire. Now, some 20-odd years later, I want to use the ring as my engagement ring. The issue is that I have no idea what kind of wedding ring to put with it. The setting is a bezel setting, and I love the protection it gives the stone. The setting is simple and clean and I like it. But straight bands clunk against it, and I haven't yet found a curved band that I really like. I *have* gotten 18 2mm side stones in older cuts, L-M color, and clean. Any ideas on what to do with my beloved "problem child"?
You may want to start a thread in the Rocky Talky section to get input; there is more traffic in that section. I'd think you would have to get something custom made for it though. It's a unique design; if you have additional pictures, include those in your new thread.