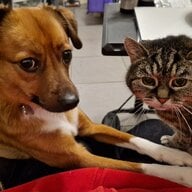 Joined

Jul 7, 2013
Messages

11,843
MRBs leave me cold ever since I discovered I love ECs back in the late 90s.
My mum gave me her 1.8ct+ MRB in a temporary ring setting, and it remains unworn and unloved. I recently found a pendant setting that I like, so it will be re-purposed as a pendant eventually.
I have seen and liked the old cuts in antique and royal jewellery, and learnt a lot about them via PS.
I was privileged to meet up with mochiko42 when I was last in Hong Kong in 2015, and she was delighted that I recognised the cut of her then diamond being an OEC. Apparently I was the first person in her social circle to do so.
It is unlikely I would get an old cut diamond to wear as a ring as no other diamond will trump my affection for my EC that was my 40th birthday to myself and has huge sentimental value. Therefore, I shall admire them from afar instead.
DK