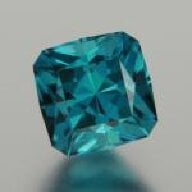 Joined

Jan 18, 2008
Messages

9,758
My 'bargain beauty' OEC has its new custom made home, and I am
thrilled
with the results.


I could bang on about how and why I love each element of my new ring, but that would likely bore you guys, plus I have..ahem..just a couple of photos to post...
I would though like to mention the vendor, as this has been literally a
dream
transaction from start to finish -
the ring is designed and handcrafted by RDG, or
Robinson Designer Goldsmith
of New Zealand, who are simply one class act. **edited by moderator**
Many vendors could borrow a leaf out of RDG's book regarding top notch communications, customer care and service, and excellent design & craftsmanship. I know I may sound a little OTT, however since joining PS (and before) I have often lamented the lack of a quality goldsmith that is locally available to me; NZ is not exactly the local shops, however its getting closer, so I am just stoked to now have a jeweller that I click with who are talented and without a drop of attitude
I am thoroughly impressed and very happy with everything about my ring – the aesthetics, proportions, details, and finish are all superb. It is a bit unique and may not be everyone's cup of tea, but that's also why I love it – as a friend so aptly put it, my new ring is
"Chelegant"
– Chunky plus Elegant!

I would very much like to thank Klewis, for first bringing my attention to the work of RDG with his awesome neon tourmaline ring, and than introducing me to Mike Robinson – you know how much I appreciate it!
I also must thank Coati, for being gracious as ever and allowing me to be inspired by her
chunkalicious
OEC double bezel - you rock, lovey

And of course, thank you very much to Mike & Ken for your great work and attention, and to the rest of the RDG family. Every step of my experience with them was ideal, and I'm looking forward already to our next project together.
Alright, enough of that then..
The vitals are:
OEC, now officially 1.53ct, L SI1 (certed by Gemlab NZ). Measures 7.38 x 7.28 x 4.53.
The ring is created from 18kt rose gold and platinum and includes:
0.29cts, F-G VS1 step cut trapz, bezel set either side of OEC.
0.35cts, D-E VS1 melee, 46 total, pave' set along shank and cushion.
At first I was concerned about the colour difference of the OEC compared to the side stones & melee, but it was Mike's idea to 'play up' the difference, instead of trying to mask it, and I have to say he was 100% right. The OEC is really shining in its new home.
Mike was also kind enough to take step by step photos of the hand creation process of my ring from start to finish and create an 'album' for me – I find it really intriguing to see how it all comes together, and will happily post up the 'in progress' pics later in the thread. It is a unique and fun memento to keep with my ring, and I think it is rare to get to see behind the scenes with this sort of thing.
As usual, I took waaayyy too many photos...but it was a beautiful day out, and many of you guys have asked for em,
so that's my excuse !