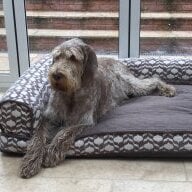 Joined

Feb 24, 2017
Messages

6,102
Hello lovelies
Wet and miserable day here! It absolutely lashed down this morning.
So glad you're feeling well
@canuk-gal
and Happy, happy birthday to you! Mmmm, cake

whadya get?
Talking of cake, that's very clever of your niece
@missy
, really cute turkey.

Honestly, I nearly choked on my tea reading a post in the other thread where someone actually gives credence to something an 'actor' and 'comedian' says about Covid. If that's your credible source, wow, just wow. De Nile ain't just a river in Egypt!!!!
Good luck with your procedure on Monday
@MamaBee
, sounds like quite an ordeal before hand having to drink all that fluid. Glad your turkey turned out well, just goes to show you that you shouldn't just a turkey by it's label!
Hope all the lovely NIRDIS are enjoying a peaceful weekend, I got the laundry done while Colin was walking Bertie, who is most definitely fully recovered and full of beans!