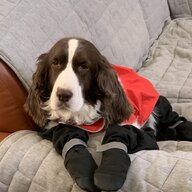 Joined

Sep 26, 2011
Messages

531
Happy Thanksgiving to everyone!
@canuk-gal
--I do hope everything went smoothly and that you are recovering now. Please let us know how you are when you get a chance.
@MamaBee
--David and I are visiting his 96 year old mother tomorrow. She has always been an unhappy person, so it is nice to hear that there are 96 year olds that can enjoy life. (Personally, I would have picked dog bedding...)
@missy
--the bedrock of the NIRDIs! Glad to hear you won't need surgery. Freddie says "hi" from inside the dishwasher. Clyde says he has no idea who closed the dishwasher door...
My application for career change is in and nothing to do but wait now. Many thanks to
@mrs-b
for being such a wonderful sounding board and support. I would not have had the gumption to do this if I had not spoken with you!!
All the best to everyone else.