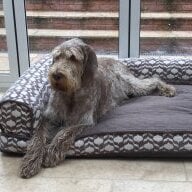 Joined

Feb 24, 2017
Messages

5,958
Hello lovelies
Your Mum is a good sport
@MamaBee
, that hat is hilarious. Your lucky friends, I'm sure they appreciate all the time and effort you've gone to baking for them.
Wow, look at the colours of those leaves
@missy
. I hope you can get the bleeding back under control. Unless it's absolutely necessary, I'm with you about hanging on to the bits and pieces we were born with. I had a male gynaecologist (came up as hyena in auto correct

) who was pressuring me to have a hysterectomy when I was 30! I declined and stuck it out. Oh my, what a beautiful puss, such a lovely colour.
I'm happy to confirm that the fish and chip shops are alive and kicking in the UK
@lambskin
, we always had cod too.
Fingers crossed that your earrings are soon winging their way to you
@marcy
, and we'll try and forget about you not 'needing' any more bling when you retire.
Good luck with your application
@springerspaniel
, how exciting to have this is the pipeline. Thank you for your good wishes, yes, it's been quite the marathon, but we're here now, and looking forward to the next chapter of our lives.
I'm so sorry to hear about your friend's mother
@canuk-gal
, no wonder you feel down. I hope you hear soon about your appt, but it's positive your Dr isn't feeling too concerned about your current results. Woohoo to your Mum feeling so positive about her new home.
We went to the outlets at San Marcos yesterday, it was sad to see some of the shops we like have gone, sign of the times unfortunately. I did get a pair of leopard print jeans, not as horrendous as they sounds, they're quite subtle actually

We also got Colin a lovely Stetson, he's a real Texan now, but really it's because it has really wide brims to protect his face and hopefully no more skin cancers.
We've just been up to the house to meet another pool builder, and the septic tank is in, although on the downside, the windows are now delayed even further.

They're now saying 10 weeks, ugh!
After that, we went to a local olive grove and had lunch, the weather is a beautiful 72 deg F, and we sat outside in the sunshine enjoying the view.
Can't believe another week has whizzed by, and it'll be Friday tomorrow.
Big love and hugs to all the lovely NIRDIs