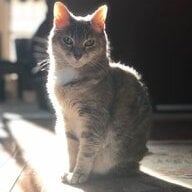 Joined

Jun 17, 2009
Messages

12,912
Hi everyone!
@Austina
, I'm sorry your trip in May isn't happening but it definitely sounds like the right move. You have lots of good times ahead of you with Adam and Kim. It's great you're fully vaccinated now, makes going places less stressful. Very glad Colin had a good check-up and is doing well.
@marcy
, your sapphire ring is really beautiful, I love the color of the sapphire and the wide band is so flattering on your hand. Good luck at the dentist, I hope you don't have too much discomfort.
@mrs-b
, wonderful news about your god-daughter going to Berkeley. What an accomplishment and it must be very exciting for you. Your plans for your house sound wonderful, although it's a shame you need to have the floors redone so soon. How fun to be working on a few jewelry projects, looking forward to seeing them.
@missy
, those baby foxes are adorable and your friend G is a very talented photographer. Fantastic pictures. Archie is one of the cutest dogs I've ever seen and Oliver looks so happy getting some love from Greg. I'm sending Greg lots of good thoughts for tomorrow. My brother is doing pretty well, still some trouble with not sleeping well but he's ok overall.
@Polabowla
, very sorry you been feeling so ill and I hope you get some relief soon.
@bling_dream19
, I hope your mother is doing better with every passing day. Glad to hear things are good with you.
@MMtwo
, so glad the job is going well but I get having to recharge, I'm the same way. It's a big help to have some time to decompress.
@canuk-gal
, I'm sorry to see that your mother is going to need surgery. It's a shame the improvements are so expensive. Hope your week is going ok so far and you aren't overly busy.
Things are good here. Unfortunately the school dd works in is closing in June but thankfully she's found another teaching job for September. Whew! Ds and his girlfriend will be coming to South Carolina in May so looking forward to that.
Hope everyone has a good rest of the week!