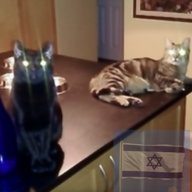 Joined

Jun 8, 2008
Messages

45,814
@missy

See if you can make him an icy smoothie...He may not be able to suck through a straw but can eat it with a spoon. Maybe you can get him some Ensure or other protein shakes and freeze it a bit until it gets slushy. Poor guy..

Can you call the surgeon and ask for better pain meds? If he gets heavy duty ones you have to be careful about getting blocked up..He can take something like Miralax with it. I would call the surgeon. He shouldn't be in that much pain.
The surgeon gave him codeine #3 ridiculous. I mean it's impossible to get real pain meds. I am exhausted fighting the doctors with every thing. We couldn't get an appointment follow up Tuesday so have to wait now til Thursday and he has no thyroid meds. I emailed my endocrinologist but haven't heard back. Can you tell I am frustrated with our health care in general?
Maybe when it's more comfortable for him to drink but still not able to eat he could drink Ensure or other nutrition drink.

Maybe the doctor can suggest something to soothe the throat?
Thanks
@mary poppins
. I asked him last night and he said soft foods like ice cream and soup IIRC but Greg is being very stubborn granted he is in lots of pain. I am trying to do what I can but there is only so much I can fight him when he is feeling so bad. I am just letting him rest in bed for now and not nagging him as much as I want to. Drink, drink, please. Oy.