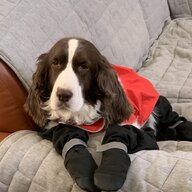 Joined

Sep 26, 2011
Messages

308
So many threads to catch up on!
@Bayek
I am so sorry about your shoulder; hope you get some relief soon. I LOVE yopur reference to the "boring pain," I have always kept that little koke inside when I see patients. Glad Auti passed his exam with flying colors! I bet he could beat our fine pres on the cognitive exam...
@missy
how are the kitties doing? I hope all eyes have cleared up and everyone is eating something. I am so glad you two enjoy cycling so much! You are a role model for those of us who aspire to be mindful during the day. I also appreciate your photography. I know it's been said before, but it must be said again, it's a part of NJ that we don't get to see (or smell) very often. Is Greg feeling better physically? I know it takes a long time to adjust to the loss of a beloved parent, particularly a mother. All my love to you and your family.
@Niffler75
I appreciate the photo of your son--what a cool thing to be doing in the summer!
@Jimmianne
Oh my goodness, what a gorgeous little guy you have! I am totally in love with Kine. I can imagine that when the time comes, he will fit very neatly under the airplane seat. Such a cutie--more pictures please!
@Austina
I just love your sense of humor! I hope you are staying cool (and looking cool in your new shoes!) I buy men's shoes all the time because I have 4E width feet. I can only ogle everyone's (that means you
@missy
!) petite feet and lovely shoes. Did I mention that when I was a kid they told my mother that she might as well ditch buying the shoes and just get the boxes for my feet?
I will catch up with everyone else after I help my husband with whatever he is doing outside that needs help. Thank you to everyone for your kind words and well wishes for Ellie! She is now 2 weeks post-op and I am in the middle of taking out her stitches (all that school I paid for might as well save us a little money on vet's bills...) As they predicted, her neurologic status changes daily--some better and some worse, but overall on track toward recovery. She is just so much more the Ellie that we remember from several months ago--no longer do we have the "cow" posture when she stops in the middle of the kitchen and stares dully at the floor. She is starting to dance for food again.
Be back soon! Love to all the NIRDIs.