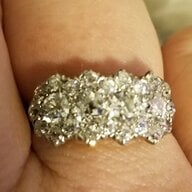 Joined

Nov 8, 2014
Messages

170
Happy Friday NIRDIs...
@MamaBee.
So sorry to hear about your son. I hope you are taking all precautionary measures and a support system to keep yourself and your loved ones safe. Do let us know if/how we can help.
@
bling_dream19
Thank you for sharing pics. Knox is adorable. Pets and bling....pretty much guaranteed to brighten a day.
@marcy
. Happy belated birthday.
@
Bayek.
Congrats on the first concrete proof (pun intended) of your new home. Ah, and pool. Love it.
@missy
Sorry to hear of Greg's progonsis. I hope that she'll go for treatment until the treatment is more painful than the disease. My late stepfather did about 16 months of treatment before his lung cancer before he said no more...and we were grateful for that time with him. Sending dust.
@Slick1...
Hope you feel better soon.
I had a mental meltdown this weekend and went into hiberation mode. I think the mental anguish of moving and selling has finally hit (along with the daily stressors of COVID and the current civil unrest). Even tho my house is a wreck, I am attached to it. Used some tactics to get positive vibes (looked at my new rental home again, did a few searches for things I'd like to add to my place) for moving, so feeling much more upbeat now. 2 days of work before I feel comfortable bringing folks by (have them scheduled to come by Sunday night).
I should not be feeling quite so optimistic as I found out late yesterday that my project is not funded for next year....so I have to hunt for a new role in my company. Boss is 100% ready to help pave the way ('you/your skills are too valuable to lose") but I have to add the stress of a job search during this crazy time. Good news is that I will have more time to pack as there will be a lull between project wrapup (next Friday) and starting the new role.