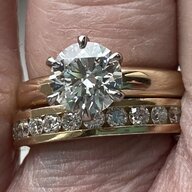 Joined

Feb 27, 2007
Messages

23,897
Hi NIRDI's!
@Scandinavian
heck no we can't say no to more money; it contributes to shiny things. Party at Scandi's house. Sweet. Did you get your diamond replaced yet?
@canuk-gal
sorry you have insomnia; that is not fun.
@bling_dream19
gorgeous peony. We can kind of see little buds on our trees. Thank you - my sister does a really nice job on doll clothes. She has quite a following at craft shows and sells them at a Dolle Shoppe in Denver. Nice for getting your pear mailed.
@missy
I got some Hoka running shoes; I am liking them so far. Eating out was fine; they used printed menus, had paper on the table, utensils were pre-wrapped in a napkin and not put out until they seated you. All staff had on masks. Sweet to get 50 miles in on the bike. Great pictures. We are soul sisters at the thrill of going fast but of course mine is faster than 30 mph and in a car. I am my dad's daughter there. He was a mechanic by trade and restored a 66 mustang for me. My mom saw me at a stop light sitting by another classic mustang and we were eyeing each others car; so of course both of us raced out once the light changed. My mom called my dad when she got to work and told me she saw me drag racing my car and he asked her "did she win?" I am so sorry to hear about Greg's mom; I am glad his brother is working with is doctors. I hate to hear your ankle has flared up with therapy. Nice ankle support Greg made for you. Sweet to think of moving to Montana or Wyoming; there are some beautiful places out here.
@Austina
thank you; my sister makes really nice doll clothes. I am the only lame seamstress in my family; I never liked sewing. I did get some new Hoka and ordered in a pair of Brooks. I am glad you like your Sketchers; I am going to try them sometime. Yes, it is good to support the local economy. I had ordered some Asics online about the time we went in to shutdown and they send me the wrong size; I never returned them in time to I took those in with me for them to put out on the sale table; they were never worn so she gave me $50 credit for them. How exciting to get with the bracelet company on Tuesday.
@Niffler75
how exciting to have Chinese takeout available. Enjoy.
@Bayek
hope they have started on your place. Marty and I are doing well thank you. How are you and John doing? Our weather varies right now, today is chilly and rainy. We've been in the 70's and 80's quite a bit. Sorry it's so hot there already.
@junebug17
thank you for the compliments on my band. I like it more than I thought I would. We do enjoy the steaks from Omaha steaks. Oh no for a flood in your basement; I hope the insurance company is helpful and you get things taken care of right away. What a pain and chore but glad your son found it. Your pool and back yard in SC looks fabulous.
@TechieTechie
good deal to be almost done cleaning out the basement. Good luck with the tool sale and that's great news your knees are hanging in there.
Hi @springerspaniiel and
@Slick1
- I hope both of you are having a good day.
@Jimmianne
nice you had a pool room but I've heard the same thing the upkeep on them is kind of a pain.
@AV_
oh no to having to see the dentist; hopefully they got you fixed up and you won't need to go back.
Not much going on with us. Marty and some of his clients went hiking in a state park near here yesterday. They had a good time. I got my laundry done yesterday and will probably do some more before going back to the office on Thursday. I made a loaf of bread today; it turned out okay. Marty wants me to find a sourdough recipe.
Take care.
Marcy