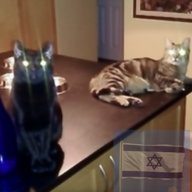 Joined

Jun 8, 2008
Messages

34,124
Happy Caturday Saturday lovely ladies!
For some odd reason the cats love to hang out in the playpen. A huge apartment they can run around in but we often find them here. LOL. In honor of Caturday Saturday I am sharing this photo of our crazy kitties. They all get along when they are sleeping.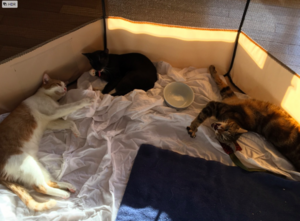 HI:

I don't know about the rest of your NIRDIS but my hands are sooo dry from all the extra saniwiping. They've never been this dry. Great I need uglier hands!!! lolol

@missy

feel better soon. I love Zinc lozenges--I have the Jamieson brand and take them daily.

@marcy

bright sunny and warm here! Sorry to hear snow is on its way for you.

Errand day--I wore a mask. Felt very odd. I'm sure I looked ridulous.

My DH found a cute cat channel on you tube and is always calling me to watch ! The cat is adorable.

Hope everyone is safe and well.

cheers--Sharon
Thank you Sharon! As for wearing a mask it is the right thing to do. Protecting others as well as ourselves as best we can. You rock Sharon! Thank you for the zinc lozenges rec. I have been taking those every day though I wonder if they will help at all since they are probably 10 years old at this point. LOL. But I know the stores won't have them so I make do with what I have.
One tip to keep your hands OK is just moisturize each time right after you wash your hands. That is what I do and so far so good and my skin is super dry. Of course if we are out I just spray with alcohol when necessary and then when I get home I wash with soap and water and moisturize the heck out of them. (((Hugs))).
Happy FriYAY friends!

Missy you are on my mind and I'm hoping you are feeling better. Its hard to know what to say except your heart is just beautiful and enjoy each day which I know you are doing.

Thank goodness work day is over and thankful to still have work.

What are everyone's weekend plans? I plan to continue cleaning, organizing, my life as usual! I plan on making slow cooker marinara sauce and maybe a lentil soup if I can pull it off. I'm working hard on a sleep schedule. I wore my honeymoon ring today along with some wild leggings! Hope you love them

@missy

Sending love and hugs to all.

@AV_

now I want manchego cheese! I have greek feta, Italian pecarino and Irish cheddar and now I'd love some manchego with some olives yum, enjoy friend!
Sigh, that ring is just gorgeous.
And LOVE your leggings! Very happy you have work to keep you occupied and also to help keep you sane. Your weekend plans sound very fruitful. I am not as industrious lol. Wish I had the energy. We will probably continue what we have been doing. Working out and hanging out and just taking it day by day. Hugs to you sweet
@bling_dream19
Hi everyone,

Hope everyone is staying reasonably healthy and reasonably sane, although I was not very 'sane' to start with!

We made a tissue paper rainbow today to display in our front window to hopefully cheer people up. It will be joined soon by some lovely bird window stickers!

My new vintage chrysoberyl ring is winging it's way to me in the next few days after being stuck in customs for a week! Well the world is going to s!#t but we still have to pay our taxes!

@missy @Mamabean @Austina @AV_ @junebug17 @Tekate @Jimmianne @Scandinavian @Daisys and Diamonds @bling_dream19

and everyone, it is really helping to read everyone's news each day. If we all lived on the same street we would totally look after each other, right!

Take care everyone x
Woohoo, cannot wait to see your new ring.

How nice you made a tissue paper rainbow to cheer up people. Especially given the possible TP/Tissue shortage lol that is a great sacrifice
And I hear you about trying to stay sane and maybe not being that sane to start...

Heck, the more interesting people generally have a little bit of crazy in them....that's OK.
Stay safe and well. Hugs.
@AV_
indeed.

Hope you are enjoying a nice weekend so far. XOXO
@Slick1
how's the toe doing? Thanks for looking up the Kosher salt for me. D'oh

why didn't I think of that? Sleep deprivation is making me fuzzy headed. Yup, I am going with that.

How are you feeling overall? (((HUGS)))
@marcy
did you get snow? How much? Living vicariously through you right now. Snow sounds pretty refreshing. It was hot here yesterday. Mid 70s I think. XOXO
@Austina
how are you guys doing? Thank you so much for all your warm wishes. I am so glad you and Colin got the supplies you need. We are pretty good on food for now too. Hoping that holds. You are right. Gracie is loving it here and we love her. But OMG she is just like Oliver with the food. I guess our kitty challenges are meant to continue but compared to this pandemic it is nothing. And in any case we will all be OK. I keep telling myself that. (((HUGS))).
@Scandinavian
how is fur baby's paw today? (((HUGS))).
@junebug17
how are you and the family doing? Sending good thoughts your way.
@Jimmianne
any recommendations for good movies on Netflix or Amazon or Hulu or cable? How is your gardening going? I love the thought of you in your garden enjoying the fresh air and flowers. Hugs.
Hello to everyone else. Sending you hugs and love and safe vibes.
Leaving you with some lovely blooming trees. Nature is awe inspiring.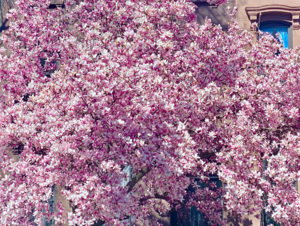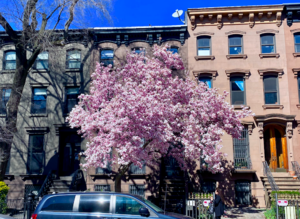 Have a good day lovely ladies. XOXO.