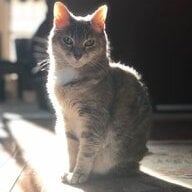 Joined

Jun 17, 2009
Messages

12,193
@Tekate
, I'm sorry Kate, Auti, and Mike aren't feeling well and hopefully none of this is serious. Sending lots of love and comfort to you.
@missy
, I hope you're feeling better very soon. Hopefully this turns out to be just a cold that has to run its course. Rest up and take care. Very cute pic of the kitties in their playpen. Beautiful pics of the flowering trees and your rings are really cute.
@Austina
, glad your items arrived and you're feeling relieved. I read about the clapping for those working on the front-line, such a nice gesture. Hopefully your Prime Minister's case stays mild.
@canuk-gal
, really good idea to wear a mask. I've been seeing more people wearing them recently.
@marcy
, your cookies look delicious. My hair looks ok but kind of wonky and I know my hairdresser is going to have a good laugh when she sees it. I hope your workweek goes smoothly this week and with less hiccups. Lol to having a talkative sister...I have to admit, there are times I'm not up for a long chat either, especially in the evening.
@Mamabean
, my sister and I used Zoom and it was fun...although neither of us was thrilled about how we looked lol. She said "I'm not sure this is going to work for me" haha. I'm hoping if your husband ended up coming that the visit went well. It's terrible you have to be without him, I know it must be very hard.
@Scandinavian
, aw, I'm sorry about your furbaby's infection and I hope it clears up soon.
@Jimmianne
, your posts are not clueless. I think it's a given we're all worried out of our minds! I enjoy hearing about your everyday life. it is a nice distraction from my worries. It's comforting to me that you are finding a little bit of enjoyment during this incredibly stressful time. Your garden looks amazing, and I love whipped cream in my coffee.
@AV_
, your pictures are gorgeous. Those irises are beautiful. So awesome you have oranges right outside your window! It is impossible these days not to be worried about friends and I hope the people you've gotten to know stay healthy. And good luck with your draft.
@bling_dream19
, sounds like you are keeping busy and productive. Love marinara sauce. Your sapphire ring is just stunning, one of the prettiest rings I've seen...and I've seen a lot of rings during my time here lol.
@Niffler75
, I'm glad you finding things to do that help calm you. Love the Steampunk picture, so fun. Can't wait to see your new ring. I'm sorry your son had a rough day and I hope tomorrow is better for him. Take care and try to relax when you can. Love your window, so cute!
@Keeliamira
, thank goodness you don't have a tumor but I'm sorry about the uncertainty of your condition. Take care of yourself, you have a full plate and are doing a lot. It's great you're enjoying your new appliances. Amazing pic of the rainbow, what a pretty place. Sending good thoughts that your friends and family stay well, I know it's a very scary time.
@jaaron
, that video is hysterical! Thank you for the laugh. I hope your family members are recovering and doing well. I'm so sorry you had to deal with this horrible virus and I'm hoping everyone is ok.
Everyone is healthy here so I'm grateful for that and I just hope it continues. The days go by quickly even though I'm not doing much of anything. Just trying to stay occupied - exercising, cleaning, reading, painting. Worried about everything and anything but trying to keep it under control.
Thinking of you all, stay safe and be well <3