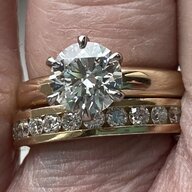 Joined

Feb 27, 2007
Messages

23,779
Hi NIRDI's!
@Tekate
I am so glad to hear your family is all doing better. Nice. I know your should has been bad for you for a long time; luckily mine only hurts occasionally. I didn't know the limit how many steroid shots you can have; it does make sense though. About the layoffs, we are in a fading business and venturing in to a new area that costs a lot of money. We've been cutting and running on fewer employees anyway so this one will not be eliminating dead weight. Time will tell who gets cut. I think we are looking at a ton of layoffs with people staying home and businesses closed. I do like having a lady come clean for us; my floors always look great and I attribute that to her. We have a lot of hardwood floors upstairs. Good luck with your house bid.
@missy
your friend in Canada sounds very safe. Good deal. Oh no; I hope you didn't crack a vertebrae. That is so scary and sounds very painful. I am sure your podiatrist has an answering service for emergencies. I was telling Dee Jay that Marty brings in groceries, packages, mail and sets them all over the kitchen counters. To which then I have to go through, wipe down or throw out what I can, then wipe down the countertops and then wash my hands. Keeps me busy. Yes, less densely populated areas should not have as many cases develop. Yes, it is the best we can do focusing on one day at a time. After they recommended the stay at home for 30 more days though I did tell my BIL - that's it; I'm not washing my hands. He countered with you'll be washing your hands within an hour. My sister says she gets more elastic for masks tomorrow. That's awesome she can help. I totally laughed at Gracie's determined look to hold on to her toy. That's awesome. I'll go find the post you mentioned but the pack mentality here can be vicious. I hope Greg's job is safe. Scary time, as I've said before I don't know anyone personally who has the virus yet I can think of at least 2 dozen people I know who has lost their jobs.
@bling_dream19
thank you. We do have pretty sunrise and sunsets here even without an ocean view. I am with you in hoping our jobs are secure. I hope all of our jobs are secure. I could easily be happy as a homebody - except now when I know I should stay home. My car misses me - I'm sure of it.
@Austina
and
@missy
I am remaining optimistic all those extra hospitals and hospital beds are never ever necessary.
@Austina
I am sorry your mouth is so dry in the morning. My allergies tend to give me a dry / sore throat so I bought myself a kid's sippy cup and keep it on my nightstand. I can have a sip of water if I need it or start coughing at night. I need to get my April newsletter posted today; thanks for mentioning it for me. Thanks, I hope my job is secure too. That is awesome you got your meat order delivered okay. That would be so awesome if the BCG vaccinations worked against the COVID 19. There are so many conflicting stories out there about this virus. I see according to the US CDC that the US flu numbers this year were 39 million illnesses, 400,000 hospitalizations and 24,000 deaths. Let's hope the COVID 19 doesn't reach those numbers.
@Niffler75
poor Hershey has had it with her thyroid meds. Poor kitty. I am glad you are getting in daily walks. My shoulder / arm isn't too bad right now. I'll try lifting tomorrow.
@Scandiinavian poor furbaby, she's had too many surgeries recently. Hope she is doing much better soon. Yay for internet at the summer house. I think my shoulder / arm is a little better today. Thank you. Too bad the meat isn't great there. We order a lot of our meat from a steak place. It's pricey but good.
The days are definitely blending together. I have been on the phone a lot today for work. I have one more conference call to go then I might be done for the day.
If the snow doesn't start by 5 we are grilling some filet for supper. I'm going all out on sides - cottage cheese and clementines. Hard work there.
Take care.
Marcy