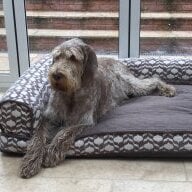 Joined

Feb 24, 2017
Messages

3,885
Hello lovelies
I apologise in advance if I miss anything. Yesterday was a busy day, Colin woke up feeling lousy, so in between dosing him up, doing the shopping, having a golf lesson, cooking, I ran out of time to post!
@Niffler75
it sounds like you've got a great plan and support for getting your little guy in to school, so fingers crossed it all goes smoothly.
Your new ring, the colour combo is fab, and the bezel setting looks sleek and modern. I'm not a fan of dachshunds, my lovely Dottie was terrorised by one for the first 2 1/2 years of her life, and then it savaged her, and her stupid former owners dumped her, and told the vet to put her to sleep. She was the best girl ever, and we miss her so much.
@Jimmianne
- swit swoo, you look fab with your new do, and your new Sepkus ring looks great. I always think I can see creatures in the engraving.
That must've been quite the thing to see yesterday
@marcy
, it's amazing to think of all that space and planets out there and we know so little about them.
Woohoo
@Mamabean
, your new band is lovely, any idea when Ashlee is due?
I hope it all goes well for your DS
@canuk-gal
, the only thing I would say, is don't let them do the permanent filling until it's all completely settled. Good luck to DH, Colin recently had a double hernia repair, and he was fine, a bit sore, but recovered quickly.
Aww phooey
@missy
, I'm sorry you've got something else to deal with now. I hope you can find the perfect treatment to slow down/stop your bone density lessening, I'm very encouraged to hear that Jimmianne is having such great results with her treatment. Your Mum always looks so effortlessly elegant, how's she doing now? That's great that Greg is back driving and you managed to trip to the beach house and back, and topped up the Kitty Cafe.
Hi
@Tekate
, hope it all went went today and you've had a productive meeting with the architect so you can get moving with the house.
I'm a walking disaster at the moment, my arm feels better but my shoulders were aching yesterday after the pummelling, then I ricked my back at golf, oy, anyone would think I'm getting old

Big hugs to all the lovely NIRDI, I'll catch up with you tomorrow.