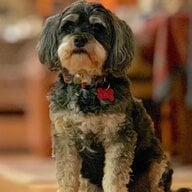 Joined

Jul 20, 2012
Messages

1,900
Hi NIRDI'S!
Life has been moving fast around here the last couple of days...I hope everyone had a nice Valentines Day & a nice weekend too. I am behind a bit with everyones responses so will try to catch up!
@Austina
: I play 2x a week & love it. I have a bridge lesson on Fridays, & play with friends on Mondays. I am amazed at this game, after playing for 3 solid years, am still learning. I do have a membership with the national ACBL (American Contract Bridge League), and can play with the local chapter & accumulate Master points if I choose, but don't because I don't feel good enough yet. Maybe this next fall. Glad you seem to be doing well--hope your shoulder has improved.
@marcy
Well, our nice easy winter just disappeared, & now we are back to true winter here. The usual frequent snow fall & cold temps. Everyone who lives in an area with a robust winter probably experiences the same. Hang in there & good for you with your lifting! I love astrology, & wished I knew more, had even bought a telescope & star maps as young person. It's so interesting. Where I live now has so much light pollution, can't really see much at all. I'd have to drive quite a distance to reach a 'good' spot. When I lived in NM, the night skies were incredible. I'll never forget those skies. I love seeing all the rabbits & their antics, what a sense of humor you & Marty have!
@missy
, Its fun to see your daily walk photos, glad you & Greg are getting out. It's always amazed me with some of my surgeries how hard the recovery process has been, but if you stick to the plan, everything works out--& it sure looks & sounds like he's doing well. Follow-up to the lithotripsy is a standard followup appointment next week & another KUB to check on the kidney stone(s). I originally had 1, which he thinks I must of passed, & I don't recall having pain, but who knows--I can withstand a good amount of pain. Then the 2 current stones, the larger was 5mm & the smaller 1-2mm. I was instructed to drink loads of water post procedure to help the kidneys process & flush the stone fragments. I spent in total 3-4 days passing fragments. Not much real hard pain, would feel a twinge here & there, but nothing to get worked up about. So thats where we are. I hope his is easy as well. And your pink band looks delish with Bubbalah, such a beautiful diamond she is!!
@Tekate
, finding a doctor is 90% of the battle IMHO. & it seams as though you are making progress & getting your 'upkeep' handled.
I think its pretty cool you moved to be with family & are enjoying your grand daughter. Glad you like Austin, & building a new home would be something I would thoroughly enjoy. I lived for 17 years in the SW & adored it--something about the area I found enchanting.
@bling_dream19
I love that you went ahead & re-took those photos, you'll have those forever, kudos to you! Thank you for sharing your dress & jewelry photos, it was fun to see--I bet you looked stunning!
@Mamabean
Am so sorry that zircon ring didn't work out...you are quite nice to not return it & ask for a refund! Oh well, perhaps you can re-do something with it to make it more appealing. I know what you mean about not bonding with the piece & feeling like you could throw it away. Its hard when you are disappointed in something. Hang in there, but do keep it, with time, I hope your opinion will improve!
@Jimmianne
Don't you just love a good bargain?!? To find what you wanted, & at your size, & then at a discount--makes the deal so delicious!! Kudos to you!
@junebug17
I hope you are doing well & had a nice weekend!
We have had a relaxing weekend, we were to go out to dinner Sat night to celebrate V Day, but it was bitter cold, so we just stayed in & had Lebanese take out, fine with me. I made a chicken chinese dish that DH likes tonight. I have a regular week coming up with bridge, weights, swimming, etc. That's about it.
Jack is doing well with his new ramp, thankfully. He finally started using it early last week, both up & down. We positioned it so he didn't have any other choice but to use the ramp if he wanted to get up to the couch. He is looking so old & frail to me these days. Bless his little heart. He's at the front door asking to come in after digging somewhere, you can't easily tell, but his mouth & whiskers are covered with dirt. Had to get him cleaned up before he was allowed in. Like having a 2 year old!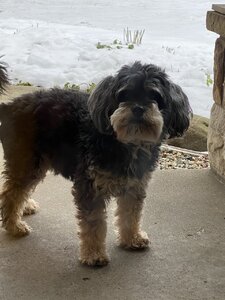 And of course, the bling....have a fabulous week ahead everyone!!