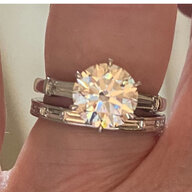 Joined

Mar 31, 2018
Messages

6,876
@Mamabean

Hope your drive was good and hope all is well your way and I am waiting for more updates on the new ring! xoxox
Thank you
@Tekate
David is going to mail me a model of Ashlee's setting.
@Slick1
brought up a good point about making a space underneath so I can wear a band flush next to it. I actually like a gap sometimes..It keeps the rings separate so you can see them individually. Other times I like it to be flush. The model will let me see how I will like it. I can even try it on with a band..The dimensions are a smidge over 13x14mm so it's a little bigger than I'm usually comfortable with..so we'll see..
The ACA should be ready the first week in February...I can't wait to put it next to Libby.