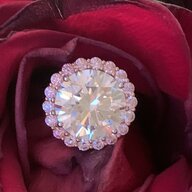 Joined

Jan 23, 2016
Messages

1,739
Hi Nirdis!

@missy

, sorry your glasses weren't right and I hope you get them back soon. Such a cute pic of the feral kitties. Sweet picture of Fred too. I hope he can start taking the meds for his arthritis soon. It's too bad you had to push back your appointments and hopefully you can reschedule them soon. I hope things go smoothly today at the vet. And of course hoping you get negative results in 3-4 weeks time. I'm really hoping that all this treatment and care has paid off.

@Daisys and Diamonds

, your lemonade scones look delicious. I think I might have mentioned I saw Bruce perform in SC a few years back and he was amazing. So glad you figured out how to watch him on the big screen. It's nice you had a good visit with Melanie and Aaron but I'm really sorry they're both struggling with health issues. Very sweet picture of your future queen.

@AV_

, it's too bad you didn't make it to Seville and I hope you can get there sometime soon. I had a feeling you would like Scandi's house, and the location! Good luck with work this week. And have fun cooking and using the herbs around you. Your plans for your garden sound great and I know you will enjoy having your own herb garden.

@Scandinavian

, I hope F's limp is all better by now. Gorgeous scenery and the house looks beautiful. Good luck with the floors. Continuing to send support to your mother, grandmother, and you. Take care <3

@Mamabean

, LOL to David loving winter because of snow days...my son feels the same way! I'm sorry about Chris's troubles and I understand needing to compartmentalize; you have many other things that need your time and attention . I know this is not easy for you.

@Austina

, wonderful news that Kim found a job! That is such a shame about Shirley's dog. It's a very sad situation overall and I feel for everyone involved. Nice that you went to a movie and got some shopping done. Great news that Colin is feeling much better and back to normal.

@bling_dream19

, love your wedding favors! Perfect memento for such a special day.

@canuk-gal

, stay warm! I hope the diamond shopping went well. Looking for a good stone can be fun but also a little stressful sometimes.

@marcy

, hope you had a good weekend and you're doing ok.

We're back in NJ, got home late Sunday night. Not up to much...just laundry, errands, and chores around the house. I'm hosting Thanksgiving this year so I need to start gearing up for that. I might take a ride up to my brother's sometime this week.

Sending good thoughts to all the nirdis!
What is typical thanksgiving dinner for you? Not so normal here, so just basic turkey...