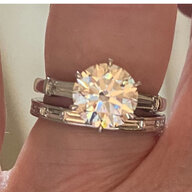 Joined

Mar 31, 2018
Messages

5,381
Good evening girlfriends. I've been reading lots of your posts but you guys move so fast I couldn't jump
[email protected]
You've been posting so many great threads..
How's your dad doing? I've been coming in here to check..I'm happy that he seems to be doing well.
I'm still crossing my fingers and toes that the RW is gone..
I'm so sorry your endocrinologist is stuck on giving you T4...Can you get another opinion from a different endocrinologist?
I love the pic of you and Greg bundled up for your ride.
@Austina
...I'm happy you've been developing another routine..taking walks with Colin..and going to the movies...You are such a good friend seeing Shirley. Do you think she is declining..or holding her own? I went to Costco today and thought of you and Missy..We love our Costco. I bought a ceramic heater for the kitchen in Maryland..The kitchen was an add on...not by us...It gets really cold in there...The house was built in 1905 so the heart of the house is warmed by radiators..I love that kind of heat..The kitchen has baseboard heating which isn't good enough. If we lived there full time we would have to do something..but we don't have time to do anything there. We're only there on weekends.
@Slick1
I hope you had a good week. Do you have anything planned for this weekend? Have you see the newlyweds?
@junebug17
Are you still at your other house? I think you said you were going to be there for a short time this time. It sounds like you enjoy the getaway. That's pretty much what we do...We go there and relax and go out to dinner...I also catch up a bit on sleep there..For whatever reason I sleep better in that house.
@Calliecake
You sound like such a sweet aunt to your nieces. Did you ever find the unicorn dress? How old are they?
@Tekate
How are doing with the move? I hope you get time to check in..I hope you're not wearing yourself out...
@Scandinavian
I hope your mom and grandma are doing okay...
Your floors are so gorgeous...I just love them. What did you oil them with? Did you do it with a cloth or a pole thingie? I can't remember the name of it..
@canuk-gal
Are you still riding a bike? You and Missy are too much..I never could get comfortable on a bike. I tried the gel seats..but they hurt too...Now my back is bad so that wouldn't work for me. It's so darn cold to go for a walk..I have to do something though...
@Daisys and Diamonds
I hope you find a job you love that makes great money. You deserve the best job and friends because you are one of the nicest people. I really enjoy your posts..
@av
I hope you've been getting out from under all your work and having a great time..running through town causing havoc..hahaha..
@marcy
You are becoming the female version of Arnold Schwarzenegger! You must have arms of steel! That is so good for your bones..My shoulders and neck gets cramps taking all the zero waters into the house...
How's Marty's business doing? Did he get out of jury duty?
Yes..Insurance companies stink. I called mine about taking some of my jewelry off the policy. I'm sick of giving them my money..I kept my larger studs, Libby, and a diamond bracelet on...I haven't been insuring anything new I purchased. If we get a dent in our car..we don't even go through insurance because they will jack your rates up. Of course if the car got totaled we would go through them..I fortunately don't get many dents except when my husband backed up into my then bmw twice! Hahaha..
Here's what's been going on here..‍
My mom came into my room to tell me that her implanted bridge fell out of her mouth. They fell into the sink...I looked in her mouth and I could see the metal points coming out of her gums..She's holding her teeth in her hand..I thought David was going to have a heart attack...poor guy! This was on Sunday..so we had to wait until Monday to get her in to the dentist. The dentist said that if it happened again..I can get something like dentures adhesive and snap it back in until she can get in to see him..I must have looked like a deer in the headlights..because he laughed and said..or you can just serve her eggs and soup until I can get her in..Yes..I would do that..hahaha..
Have a great night! xxxxooooo
Last edited: