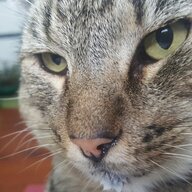 Joined

Apr 30, 2019
Messages

2,310
Hey we are on the news this AM LOL. Got our first frost last night. Brrrrr. Amy Freeze's name is so appropriate. LOL.

and it's a whopping 28 degrees F right now. Oh so warm. Not.
frosts kill all the bugs and makes you feel alive
but i bet that cold must get into Greg's crook knees
sometimes down home (we have a temperate climate here) the harbour would just start to freeze and there would be frost on the beech
good weather for panel beaters and plumbers
i think our proximity to the river and away from the beech made us cold in the winter
as soon as i get a full time job im buying insulation!
we thought we would be hardy enough to do without it but the house is just too old
what heating do you have at the beech house Missy ?