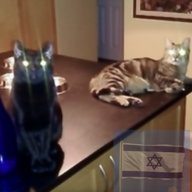 Joined

Jun 8, 2008
Messages

26,643
Good morning girls! Happy Saturday Saturday!
Rainwood
awww, 4, are you sure? I trust your judgment (a lot!) so I know in my head you are quite right. But my heart is saying adopt another adopt another.
Since your recommendation we have been buying only organic. Thank you for sharing the info with us. Yes the organic bananas spoil faster and taste a bit different but that proves to me that the non organic bananas are full of bad stuff and pesticides so yeah organic all the way now. I don't need the list. If it isn't organic I don't (knowingly) buy it.
Hope you are enjoying a lovely weekend.
Sharon
thanks for all your good wishes! I appreciate that. We are A OK and hanging in there. LOL it has been a challenging winter but doing OK. One day at a time. Fingers crossed things go smoothly from hereon out or at least no more big blips till we get the current issues settled.

(((Hugs))) to you and your mom. Hoping all continues to go smoothly for her and you and your lovely sisters.
Marcy
hahaha yes well I exercise my credit card frequently. I don't know how to use the debit card but my AM ex gets quite the daily (usually multi daily) workout.

Speaking of which we ordered a new oven and hopefully we can get the store and building insurance certificate together for delivery next week. Nothing is simple right? Living in NYC in a co-op has its own set of challenges. Oh and 2 of the 3 elevators here are out of service. Should prove for an interesting delivery. If we can get it next week that is. Thank you for your good wishes! Hope Marty is feeling better and safe flight on Sunday.
So for those of you interested here is a link to the range we purchased. We needed a slide in gas range and wanted it as soon as possible. We found anther but it would be 3 weeks till delivery. Costco is great but their big appliances take 3 weeks to be delivered here so we went with PC Richards. Greg insisted on purchasing the 10 year warranty for an extra $400 but I wasn't going to argue with him over that. Not worth it. I don't love having to call them if the appliance breaks down but some battles aren't worth fighting as we all know by this stage in our lives.
It's not another high end oven to replace our last one but hopefully it will be reliable and do the job. That is all we really want from it. In the meantime thank goodness for our BBQ and the Microwave and good friends who live nearby.
We are off to the ballet this afternoon and hope everyone has a lovely Saturday.

Cannot resist adding this photo. Too adorable. I asked Debbie why is everything tinged pink and she said it was the room color making it appear that way. I can assure you that Zena is not tinged pink. Except for her eyes and her lips.