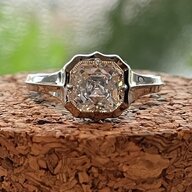 Joined

Mar 2, 2013
Messages

5,639
However, the main reason I won't ever buy a diamond at James Allen again isn't an ethical one at all. It's because I don't trust anyone to choose as good a diamond for my needs as I would.

DITTO!
My concern about having JA chat reps assist were confirmed for me this morning. I initiated a chat session via the inspection button on a 5th stone candidate, and asked the rep if the candidate diamond presented any light leakage. The rep said it would have 'slight leakage', and explained the pavilion angle was just outside ideal range (no mention of the fact it also was a bad combo with the CA). The rep did email me the GIA cert while we discussed the diamond.
When the rep made the diamond smaller in the chat window to the more IRL size, the leakage was even
more
apparent than it was in the zoom/big view. If I bought this diamond based on the reps "slight leakage" assessment, when I got it in hand, it'd have been an immediate return. When I commented how much more apparent the leakage was, the rep then agreed it was not really "slight" at all, then attempted to transfer me to another rep, which I did not have time nor desire for.
CA: 36
PA: 41.2
The diamond scored a 5.4 HCA
That's not 'slight'; it's Niagara Falls.