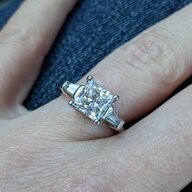 Joined

May 16, 2019
Messages

80
Thank you so much for your kind words! I am sure your hands are very pretty! I thought of putting on nail polish (remembering a Legally Blonde scene where Elle laments that Selma Blair was wearing the 5 carat Harry Winston on "her bony unpolished finger"

) but manicures have been put on the wayside these days!

I would love a D-G color 2.7-2.8

ACA

with 76 LF. However, the 2.5 is big enough. I don't know anyone in my circle who wears anything bigger. My sister does have a 3ct D asscher solitaire but asschers face up smaller than rounds so I think the 2.5ct round and 3ct asscher are almost comparable in size.

Having said that, I am a serial upgrader so I am sure I will be scouting the

Whiteflash

inventory until I find an

ACA

I can't refuse. :B

Here are some pics I just snapped.
Thank you for more pictures--I could look at that ring all day! And that was the perfect quote. Legally Blonde is just the best, even if I am way more Vivian than Elle--"bony and unpolished" is a pretty apt description

.
I've been thinking about eventually upgrading to around a 2.5 round, but after seeing the size of your rock, I'm wondering if I should even go a bit smaller. My finger is a 3.5, and I'm eyeing the
WF
butterflies setting because I'm a sucker for a 3 stone. I'm with you, though; I don't know anyone with a stone even half that big, and I worry that I'll feel self-conscious.
What is 76 LF? Is that lower girdle facets?