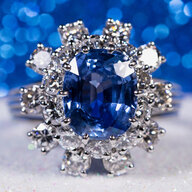 Joined

Feb 5, 2014
Messages

1,594
I for one really think it is great that you are doing this! I love the idea, the sentiment behind it and certainly would love a stone like that. Not too small at all. Who cares what others think if it makes you two happy?

There are no rules in love except those you two make. Those are the rules governing your relationship. Viva La difference.

She should wear what she loves whereever she wants to wear it. I wear solis, 3 stones, halo diamond and CS rings on whatever finger. Once you two are engaged if you get a larger diamond then she can wear that on her left hand and wear this as a RHR.

Either way, there is nothing wrong with gifting diamonds out of love and commitment regardless of what you call it.

Keep us posted about the end result!