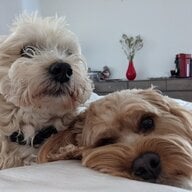 Joined

Jun 5, 2003
Messages

45
Hi everyone, hope this is the right place for this. My partner and I have been looking at settings, and I now have some ideas about what she likes (and what I like). Considering going with a custom design, and I'm looking to good folks at PS to help with inspiration and to get the details of the design right.
First, what we don't want. My partner does not want a "basic b*tch" solitaire.
Her words, not mine, and no offense to those with beautiful, elegant Tiffany and similar solitaires (which, I personally, happen to love). We initially though we'd like vintage looking settings, but after trying a few on, it seems that we want something that has bits of vintage, but not overly so.
Some pertinent details:
Center stone: ~2.25 ct PS vendor RMB SIC - I'm still shopping for the perfect stone, but it will likely be a SIC in the 2.0-2.5 carat range
Size: 4.5 - My partner has long (2.75 in / 70 mm), skinny (size 4.5 US) fingers.
Metal: Platinum, maybe with rose gold accents or on the inside of the shank.
We'd like a design where the center stone is still the focus, and initially avoided halo's since we felt that the main stone often felt lost in the halo. After trying lots of things on, we've keep coming back to the designs below:
Up first, is the
A.Jaffe Nature Inspired Tulip Design
I really love how the "petals" curve around the side, and how the tops of the petals still sit below the top of the ring, and still have "gaps" to that the halo they make still puts the emphasis on the center stone. We didn't love the shank on this, and would probably want a slightly wider shank (though maybe tapering at the top) with some milgrain or other more vintage elements. This design didn't have the signature A.Jaffe quilting on the inside of the shank, but we'd probably like it even more if it did. The ring in the hand photos is shown with a 2.5 ct cubic zirconia center stone.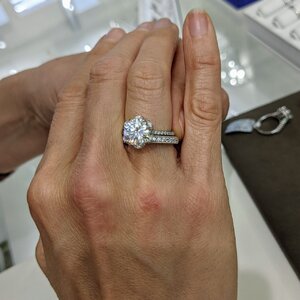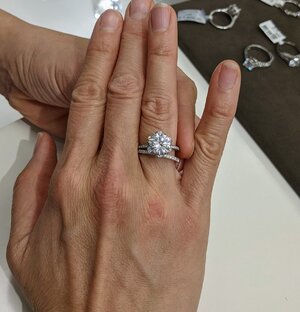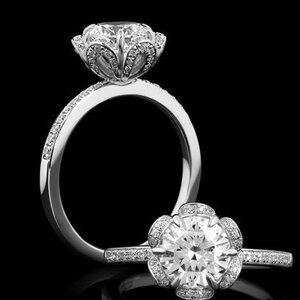 Up next, is a Scott Kay
, Heaven's Gate 31-SK5805ERW-E.
(I wasn't able to find much of anything about this online, so I'm guessing it's an older, discontinued design).
This stone has a much more ornate, vintage style backet/halo. My partner loved all of the milgrain, and we like the shank style of this better than the A.Jaffe. The ring shown in the hand photos is supposedly only a 1 ct center stone, but seems much bigger to me in this setting. My biggest reservation with this setting is that the center stone feels a little lost. I'm not sure if it would have the same issue scaled up to fit a 2+ ct stone though.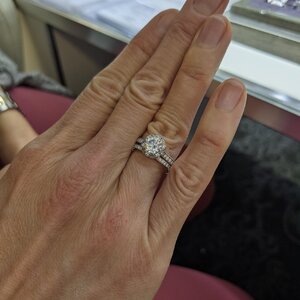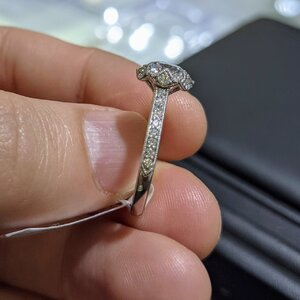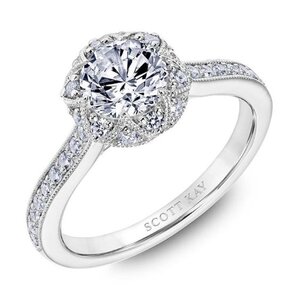 Up next is the
Stuller Floral-Inspired ring
Featured here on PS before by
@icy_jade
(
https://www.pricescope.com/community/threads/2-05-cbi-from-hpd.242718/
)
@kmoro
(
https://www.pricescope.com/community/threads/the-two-week-club.241629/page-19#post-4506532
)
This seems very similar in concept to the A.Jaffe. We haven't been able to try this one on in person, so photos are pulled from previous posts here.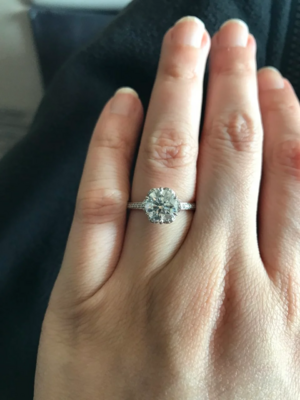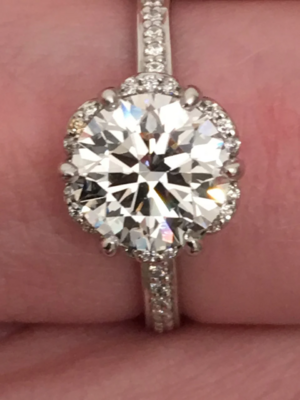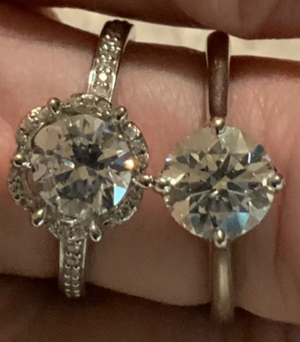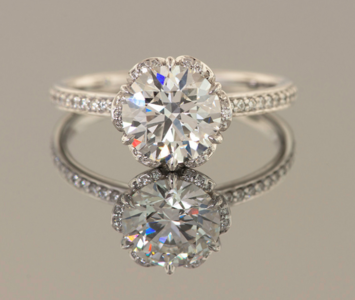 Ok, hope that's a good start for inspiration. Any other similar designs or designers I should be looking at?
Any ideas on how to combine some of the more vintage style aspects (milgrain, etc) of the Scott Kay, with the cleaner halo's of the A.Jaffe and Stuller designs?
Any finally, suggestions for someone to work with? I've heard nothing but great things about David Klass here, but I've heard it helps to have a clear vision of what you want (and I'm not sure I do yet).
Thanks for everyone's help!!
Last edited: