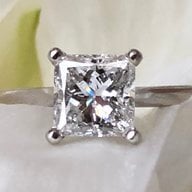 Joined

Mar 30, 2018
Messages

578
Encouraged by some lovely PS friends over on @MamaBee's most worn/favorites thread, here is my entire jewelry collection in a thread. Most of my pieces don't have individual threads, so I'll try to include as much information as I remember.
Almost all of my jewelry has come from small, family owned jewelry stores. I worked for three different independent jewelers from high school to graduating university. They were such a great experience and I loved working somewhere that served a need of the community, especially surrounded by beautiful jewelry. In a small town, having somewhere local you could drop off your treasured jewelry and have someone you know fix it is so valuable. While I no longer live in any of those small towns, I have been fortunate enough to find a jeweler I love and trust. As often as I can, I will go through her to cross items off my wishlist. One day I would love to have studs and a solitaire from one of the great companies that offer an upgrade program, but for now I'm content to support my jeweler's small business.
My Jewelry Box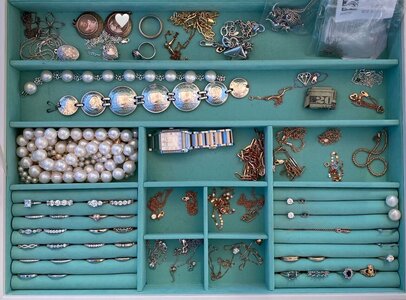 I'm not quite sure where to start, so we'll start at the top and, for the most part, go left to right.
The top row is mostly miscellaneous costume or sterling silver, some belonging to my family.
From the left: SS flower pendant from my husband given while we were dating, SS oval & heart lockets: oval is mine, heart is my daughter's, my grandma's photo pendants from 30ish years ago featuring her favorite granddaughter (me, haha!) SS gemstone ring given to my daughter from our local jewelry as a Christmas gift a few years ago, my husband's titanium wedding band: rarely worn, I surprised him with a white gold & diamond band at the ceremony, gold filled necklace from my grandma that my daughter likes to wear, gold plated paper clip chain I won in a drawing, my daughter's charm bracelet, my son's chain with dinosaur charms: the ankylosaurus is his favorite, but the triceratops and tyrannosaurus rex get plenty of love, too Then just a few baggies with white gold box chains and a couple links from an old project.

When we were dating, my husband had a contact through his job that was getting ready to open a jewelry store with her partner. He went through her to source/buy my engagement ring; it was one of the stores very first sales. Shortly after, she contacted him to see if I would be interested in working for them. So I found myself in a lucky position being able to buy my wedding jewelry and gifts at cost. But since I was in my final year of college and only working part time, my budget was very limited. One day we had a sales rep come through and he had that white gold and button pearl bracelet with tiny diamond flower accents. I loved it so much, but even at cost it was more than I could afford. My boss, however, slyly texted my husband and he told her he would like get it for me. I had no clue until I opened it on the morning of our wedding. It was the best surprise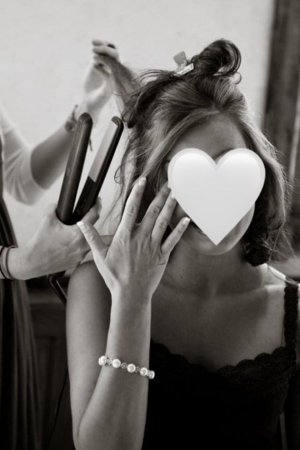 The coin bracelet is one of my very favorites. The jewelry store I was working in would buy jewelry from customers for the estate case. One day while showing an customer something in that case I spotted this bracelet. Before locking it back up, I took it out so I could have a closer look when I was no longer busy. It was love at first sight for me and I wore it daily for years.
When it came in, it had broken links and was tarnished, it looked pretty pitiful and the customer wasn't interested in having it repaired. If I'm remembering correctly, it had belonged to her husband's aunt from Australia and when she passed away they inherited several pieces and she just wanted to be done with it all. I do think the customer regretting getting rid of it so hastily when she saw how nicely it looked on my wrist.

This section doesn't see much wear. Rose gold branch bracelet I thought I wanted, but rarely reach for. White gold diamond diamond shape bracelet, same story as rose branch. Rose cable and heart bracelet, fits a bit snug so I don't wear it often. I have some thoughts on changing it, but haven't settled on any at this point. Chatham emerald in white gold semi bezel setting and sterling chain: this is my daughter's necklace. She likes it but would prefer a bigger emerald, lol. She's in elementary school, so a bigger emerald isn't in the cards for her for awhile.
The money ring was made by my husband shortly after we met. We were out with mutual friends discussing sports teams. When he discovered we shared our favorites, he jokingly proposed and I accepted. It was a couple months later that we started dating, then a couple years before he proposed again.