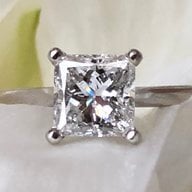 Joined

Mar 30, 2018
Messages

479
Once upon a time, I had a job at a small jewelry store. We bought scrap gold & jewelry for an estate case. We ended up with a tennis bracelet with .25ct stones that would have been next to impossible to sell in our area. So it was broken down into several pairs of .50ctw stud earrings. The diamonds weren't perfect, but they were sparkly SI, G/H stones. A good number of them were bought by my coworkers & me. Since we didn't have much in the diamonds, & earring settings aren't crazy expensive, I was able to buy a pair for each of my sisters, my mom, & myself. Having just graduated from college, working part-time, & planning a wedding, I felt so happy to give out such fancy Christmas gifts!
Fast forward several years, I had only worn those studs a handful of times. They were set in some screwback settings with posts just too thick for my ears. I had planned to trade them in with my jeweler as part of a larger stud purchase. But after seeing so many cool projects repurposing old jewelry, I knew I could have something made I'd wear so much more.
A few months ago, I found a couple Stuller settings that my jeweler brought in & we settled on the fixed pendant with a diamond cut cable chain. Then a couple weeks ago, Stuller came out with a new bezel chain slide. So we got that in rose to set the other earring. Technically, one of these will be for my daughter. She's too young right now, but I love the idea of each of us having one part of a matching set when she's older.

So for now, I'll keep it warm for her.