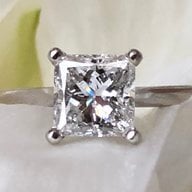 Joined

Mar 30, 2018
Messages

475
My beloved grandma passed away last year and I wanted to create a piece of jewelry in honor of her. A three stone has been on my wishlist forever and when I realized her birthdate would translate into beautiful proportions for a three stone I was in love with the idea.
This is probably the most personal piece of jewelry I've commissioned and I am so happy with how it turned out. Her birthday was February 9, 1923, so the stones are .20/.90/.23 (2/9/23.)
The center stone is .90ct, VS1, Excellent cut, G color (G for Grandma, haha, her first name also started with a G) It is a CanadaMark H&A stone.
The sides are .20ct & .23ct, G, VS, Stuller precision cut melee. The sides are very slightly off from matching millimeters, but with the center stone dividing them, I don't see the difference.
The setting is a modified Stuller setting, 123886, 14K rose gold shank with white prongs/setting. The only modifications I asked for were changing the millimeter sizes, 3.8mm sides, 6.2mm center. I'm not sure if Stuller charged a CAD fee. My jeweler did not charge me MSRP, so if they charged for the CAD, she would have built the cost into my total for the setting.
There is an engraving with my grandma's name and birthday on the inside done by a local hand engraver. We had it laser engraved by Stuller, but my jeweler wasn't happy with how tiny the original was and they left off the date. So she polished it out and had the engraver she works with do it and it looks so pretty. I'm not sharing the entire engraving, but hope the date will give you an idea of how it turned out.
My grandma was such a very big part of my life. I spent almost every day of my childhood and adolescence at her house with my mom and sisters and we made dinner at her house every night. She's the one I called in college (a time before smart phones and internet at my apartment) to ask the simplest things, like how long to bake baked potatoes. We loved to spend time together, even if it was just sitting and reading in the same room. She had a quiet, peaceful presence and is the only person I've known who literally twiddled her thumbs while patiently waiting for anything. I miss her very, very much.