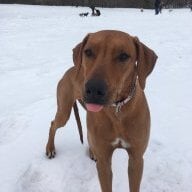 Joined

Apr 22, 2010
Messages

1,581
Picked up my new ring, an anniversary reset, from Steven yesterday and it's absolutely beautiful! The craftsmanship is everything I expected. The pave looks perfect; I see no metal between the tiny stones. I love the way Steven set the stone, makes it look like it has a really high crown and really separates it from the halo. And I absolutely love the gallery that Steven designed! I wanted something different from the usual stems and I think he certainly achieved that. The biggest surprise, however, is, wow, has my diamond grown! When people talk about the stone looking bigger in a halo, I always assumed that was including the halo, but I think the stone itself actually looks bigger being surrounded by the very small melee! The proportions are just perfect! I also want to say that working with Steven was a pleasure! I initially contacted several highly popular PS vendors known for hand-forged rings and found him to be the most responsive through email and really easy to collaborate with in person, when figuring out the final design. The fact that he's local was a huge plus too; I got to meet with him several times and see my ring in progress and make sure it fit right next to my wedding band, which was very important to me. He also finished the ring really fast! His timeline was 4 to 6 weeks and he was done in 4!
The specs on the ring:
The stone is 1.60 ct H SI H&A (bought from a former PS vendor years ago)
The melee surrounding the stone are half-pointers. I believe the stones in the gallery are also half-pointers though not sure about that.
I really want to thank everyone who helped me figure out what do with my reset, it took months of wavering but I'm really happy with my final decision. And special thanks to Gypsy; her ring was a big inspiration for mine.
And now some pictures. I may need to get a new camera to do justice to my new ring!