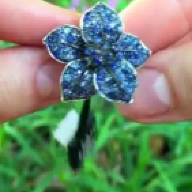 Joined

Nov 14, 2015
Messages

1,148
And I am
so happy
to own a
piece of the rainbow!!!
When I first opened it... I was less then impressed with the packaging and this lifeless stone in my hand; then I thought to take it by the window (gorgeous sunny day today) and
wow

My heart could barely contain itself! Deep oranges, pinks yellows and the brightest baby blue.... oh my oh my oh my
I love that the rainbow is "secret" or kept hidden in there and get so much joy at the thought of everyone seeing just a weird clear white stone on my hand
that I know contains the rainbow

The outlines between each colour are
so
clear and distinct it's almost unreal; like a pencil drawing. Yet in other angles the colours of the rainbow soften and blend together, like a real rainbow.
Just wow.