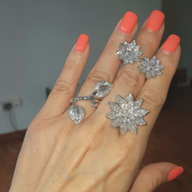 Joined

Oct 5, 2006
Messages

9,961
So I''ve been having an itch for dangling earrings for several months now (I need help, I am seriously a diamond addict!


). Been waiting for David from DBL to source a pair of intense yellow pears for me. In the meantime, that itch needs to be seriously scratched

, and I''ve been trying on several pairs of drop earrings at local B&M stores (I know I know, I should have gone online, but it is
soooo hard
to judge how they will look on you unless you can try them on in person,and I
swear
most of the ones I tried on look horrible on me, except only for these ones). So today, I dragged my poor DH to this local B&M store that has been very highlly recommended by a GF to get him to buy these earrings for me. You should have seen the look on his face when they first told him the price

, poor thing! Somehow, in the end, he ended up buying them for me and even said they look "gorgeous on me".

.
So here they are: