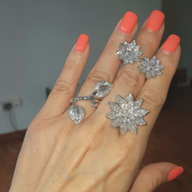 Joined

Oct 5, 2006
Messages

9,626
Hello all,
Sorry that this has taken so long. I wasn't sure if I wanted to post the pics, as I was comtemplating returning the stone to the vendor and still am. However, I've contacted
WF
,
GOG
and Mark at ERD and not one of them has come back to me with a suitable alternative. I didn't want to return the stone and have nothing left to wear on my finger (as my original e-ring has already been converted to an earring).
Anyway, I am keeping this baby for the time being. I tell ya, I think I was being OTT, saying that I could see a tinge and all. I can't see anything at all now, nada!! In one of my photos - which I've asked Irina to kindly post for me - I've tried to capture the side profile to show this. Was I out of my mind or what?

Stay tuned....pics a..coming....
(PS. I am still waiting for an "alternative" - a bigger stone, sigh!! DSS has unfortunately set in!!

).