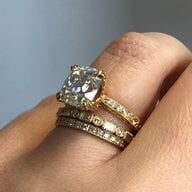 Joined

Jun 3, 2008
Messages

4,684
It''s almost here! (Sorry . . . I know, I''m a tease! LOL!)

I''ve been working with Pat at Pearlman''s, and she called me yesterday to tell me that they received my ring from Beverley K! It should be on its way to me now, and hopefully it will be delivered to my office on Monday! YAY!!!

It''s actually my Christmas pressie from DH. We ordered it before Christmas, but I had to be difficult and insist on having Bev K custom-make it with a small sizing bar, so it took a while. Of course, I had to have Pearlman''s ship it to my office so that someone could sign for it when it gets here. BUT, there''s a catch . . . DH is INSISTING that I
not open it
when it arrives! I''m supposed to bring it home UNOPENED and give it to DH to wrap, just so I can immediately unwrap it when he finishes wrapping it. Ugh! That unreasonable man!!! How am I supposed to NOT OPEN THE BOX?!?!?!



Here''s the pic from the Pearlman''s website: