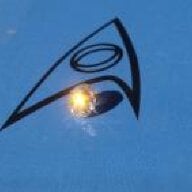 Joined

Apr 21, 2010
Messages

1,331
I just collected these from my jeweller this morning and I am beyond excited to share!
The studs were inspired by Yssie's old studs, Chunky and Lopsy. Yssie showed me that it is not always necessary for diamonds to be an exact match if they are going to be studs.
So, nearly two years later, allow me to pay homage to Chunky and Lopsy by introducing my .86tcw old cuts set in palladium bezels...
Mine are not at all well matched, when unset they clearly revealed that they are completely different in terms of colour and the one is about half a millimetre smaller than the other... However, they look perfect on my ears because it turns out that one of my piercings is slightly higher than the other! Who would have thought? I was initially intending to keep searching for a match to one of them and then just reset the other as a pendant, but since discovering that I am lopsided, I think I'll keep it exactly the way they are for now.
I never, ever thought I'd own diamond studs this big, so this is a huuuuuuge thank you to PS for being such an awesome resource!
The pendant... Well, the pendant is a bit of a silly story. For the longest time I have had an unhealthy obsession with Amethyste's Lemony. One day, when I'm all grown up, I hope to own something as beautiful as Lemony. *sigh* In the meanwhile, PS, please meet Rae.
Rae is a little .21 that I bought while on holiday in Cape Town last year. Looking at her reminds me of Cape Town's summer sunshine.
The little .03 above was part a Christmas gift from my dad and stepmom. The actual gift was a yellowwood jewellery box my dad had made - the little diamond was inside it, keeping it warm.
Rae is set in 18kt yellow gold and her little three pointer friend is set in palladium.
Without further ado...
ETA: Waaaaaaah! PS won't let me post pics!