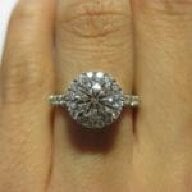 Joined

May 17, 2008
Messages

220
Hello Ladies!!

OMG, I can''t believe I''m finally posting on PS! I''ve been lurking for so long and decided it''s time to add myself to the LIW list and become a part of the PS community (it''s such a great place)!!
A little backgrounder on myself...
BF and I met at a friend''s party... somehow I caught his attention and he bravely introduced himself and that''s how we started talking. We immediately clicked but didn''t start dating because I was in another relationship. Our "clicking" made me realize how my ex and i were incompatible, so I decided to end things with him, and shortly after, started dating BF. It''s been almost three years, and I''m loving every moment of it.
Growing up, I always wanted to get married later at around 29 (I''m 25 right now), but recently I started to think maybe a year or two earlier won''t hurt. Bf and I also started talking about marriage about 6 months ago and I think we might be getting engaged this year! I never used to understand the excitement and the "waiting anxiety" but I''m really starting to feel it over the past month or so. I almost don''t want to admit it because I''m such an impatient person, but I think I''m finally on the waiting boat with the rest of you girls.
I think it''s going to be a fun ride this year, and I''m really looking forward to it!

Cheers,
iheartbora