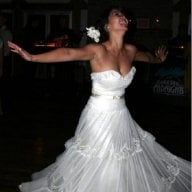 Joined

Aug 28, 2008
Messages

1,247


Ahhh!!! We''re engaged as of Friday!
I''m so excited. My hands honestly shake everytime we tell someone new and every hour or so I break out into a huge smile and do a little happy dance!
Here''s how it happened:
I had the day off so I was lazing on the couch listening to a Bachelor (the tv show) interview on my computer. I had almost fallen asleep when my BF came home from work. We did a bit of small chitchat while he was taking off his shoes and he came around the corner with a dozen roses. I didn''t think anything of it...I just smiled and continued lying on the couch like a big slob! He came up to me, got down on one knee with his coat and his work bag still on and said the following (I really have no idea what he said! Fill the ellipses with whatever your heart desires!):
HIM: Samantha, I love you so much.....
ME: Are you serious?
HIM: You mean so much to me...
ME: Take your backpack off!
HIM: I can''t wait to spend the rest of my life with you...
ME: When''d you drive to Buffalo? (to pick up the stone)
HIM: Will you marry me?
ME: Yes! I love you I love you I love you...
Afterwards, we hugged and kissed and cuddled and when it finally sunk in that we were engaged I let the tears flow. We opened up a bottle of wine (that he had put into the fridge that morning and I never noticed) and danced to our future
wedding song
.
We had dinner at one of my favourite restaurants and dessert/lattes at our favourite cafe. All of yesterday was spent driving to our parents houses to share the news. It''s still so surreal! Ah!!
Ok, so I was hesitant to post because I don''t have great pictures yet. We took some pics on my BF''s..oops Fi''s(!) camera but he needs to send them to me first. I have two super crappy pics that I took with my cell phone while I was being blinded by my ring in my car!
Stats:
1.00ct G SI1
GIA Excellent
6.5mm x 6.47mm x 3.
EX polish / VG symmetry
Table 54%
Depth 60.4%
Crown Angle 33 degrees
Pavilion Angle
The setting is 0.4 tcw of Hearts on Fire diamonds. There are 16 diamonds in the band and 21 in the gallery.



Thanks to all of the LIWs for being a huuuge support! I promised my man that we would not start planning for a month or so, so I will not abandon you ladies! I love it here too much.

(and i''ll be back with better pics too....)