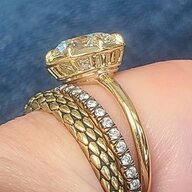 Joined

Apr 20, 2017
Messages

3,471
I've spend last night & the better part of the afternoon writing, checking, and editing my soon-to-be post & thought what the heck. I could share my CvB experience also, but it'd just be another dashed dreams blow-by-blow thread of the same thing/different day/different client.

It's such a disappointing thing to go through, &

@ceg

, & others, I mean no disrespect for your post(s). Rather, my words are directed solely at the situation and CvB. I don't think she realizes just how much of an impact her actions have had on her ex-clients. If she truly understood, I would hope she'd make the necessary changes.

I haven't even posted a SMTB thread yet. To be honest, I'm still upset about how she handled everything in my case.

@ceg

@alpha28

@Bonfire @carbonfan

& others who may fall into this not-so-good experience with CvB category: my heart goes out to all of you...
I am so sorry
@sarahb
. I totally understand. I never realized how personal jewelry actually is until this. I wanted to reset my ering so badly after the last projects that went awry. I honestly didn't want to be a walking advertisement anymore. So you aren't alone in your feelings. If I had known then what I know now...
That's exactly why I posted this in the first place.