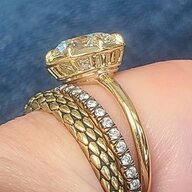 Joined

Apr 20, 2017
Messages

3,600
In the past 3 years I have done over 8 projects with CvB. In all, it amounted to over $25K worth of work with her, both custom and "off the rack." Every project was delayed including shipping of premade pieces. I believed that her work was worth it. I no longer do. The past 3 projects were drawn out to the point that I now even question her integrity.

1. I requested that a band I already had be remade into an eternity band in mid May 2018. After 2 months I texted her about it. I was told that stones were cut wrong and that it would be delayed. I finally received the band in September. I was frustrated but in the end I was pleased with the final product. My dissatisfaction stemmed from her not notifying me about the misscut stones. A simple text was deserved since the delay was significant. The project took 5 months.

2. I purchased a premade setting from CvB in May 2018. I did not decide on a stone until July 2018. CvB agreed to source a lab grown, rose cut emerald for the setting. Excuses were given on various reasons why the ring wasn't ready until January 2019. Not once did CvB contact me on any delays in sourcing the stone. I always had to reach out only to hear excuses ranging from ugly stones, a busy season for the bench, illness, to the bench being on vacation. Finally, after she realized that I wasn't pleased with a 6 month wait to source and set a lab emerald in a premade setting, she told me that the ring had been stolen from the FedEx package that her bench had shipped to her. I seriously questioned this and requested a refund. 7 months and no ring in the end.

3. In December 2017 I purchased a 1.3 ct rose cut diamond from CvB to be set in one of her designs. I told her that I would like it to be sent to GIA before being set. When I received the completed ring along with the GIA dossier, I noticed that the clarity grading was I1 but the stone was completely eye clean. I was puzzled and asked her about it. She replied that whoever graded the stone must have had a bad day and that she even thought about sending it back to GIA. She never told me this before finishing and shipping the ring to me. I left it alone but it definitely bothered me that she didn't notify me of the results before setting the stone. It was always in the back of my mind. A few months later I had the ring sized by a local jeweler. They mentioned that resizing the ring was precarious due to the grade setting feather on the dossier. At that time I finally realized why a completely eyeclean stone was graded I1. It is my fault that I didn't pursue it further when I initially received the dossier. However, I had completed multiple projects with CvB and trusted her judgement. I believe that I was led astray on this purchase.

There are several other red flags that I chose to ignore because I loved her designs, the major one being that she isn't able to defend herself on Pricescope. Warning signs of note are the numerous posts throughout PS that have alluded to her unprofessionalism and poor communication. I have personally been witness to disparaging remarks made by CvB about another client. That alone was very uncomfortable to me. I have also been contacted by others outside of PS who have had negative experiences as well. It is too much to overlook. I will no longer ignore flags by any vendor. It isn't worth it. I have tried my best to stay with facts here but emotion tends to seep in when discussing jewelry. I am human and the CvB pieces I have are tainted in my mind by these experiences.

I have been urged numerous times to post my experiences with CvB but have fearfully hesitated because of the backlash that is often received when discussing her. It borders on bullying. The drama that follows her is most often self imposed due to her lack of professionalism, her poor customer service, and her ethics. I realize this is a very strong condemnation but this is an honest review about my first hand experience with CvB. I feel it's necessary to express my truth for the sake of both other PSers and those who read but don't post. I wish an honest and forthright critical review was available prior to my proceeding.
Last edited: