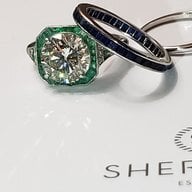 Joined

Mar 7, 2016
Messages

1,284
Long overdue and I apologize. I didn't know PS when I was shopping for my ring and I so wish I had, there were hours of obsessing over things and making my husband be the one to turn the stones down. Anyhow, DH proposed with a band he had made to mimic a bracelet he bought me when we started dating. It is perfect and I wear it as my wedding band. He told me flat out within minutes of proposing that I could choose a diamond ER, just please don't make him come along on every shopping expedition. In the end he went to 2 diamond brokers with me but wasn't with me when I found "her." He did immediately agree when I called and sent photos, I suspect he was just exhausted with the entire thing.
I had a vague idea what I wanted, as big a possible, color was not an issue and eye clean. Setting wise I was prepared to settle for something one of the brokers offered to throw in but in my heart I knew I wanted something unique. DH likes things that are authentic and very well made and fortunately is willing to pay for them. His only input was he didn't want the setting to look like anything anyone else had and I had to LOVE it, mainly I suspect cause he didn't wanna hear me nitpick for the next 40 years. I knew about referral jewelers and brokers from going with my mom to the diamond district in LA and before that the pseudo wholesale store in Beverly Hills that everything from her sweet 16 bracelet to her ER had come from. I found a few brokers closer to home but I was left with the distinct impression that they would refuse to sell anything under an H. I knew I could love J-K-L-M-N-O and for whatever reason they wouldn't get stones in that range. A friend from a car racing forum (don't ask) recommended his former lapidary instructor, who worked out of what was basically a light industrial park next door to a car repair place. I pulled up, got assaulted by their collective dogs, and knew these guys were going to find me the one. And boy did they. They showed me 4 stones all OECs ranging from I to M and let me play with all the microscopes and toys they had. But the easy answer was the one stone that was set, a student of one of the men had found it at an estate sale. They offered to remove it and reset the diamond but there was no way I was messing with perfection.
Specs;
Size: the stone has never been unset so the estimate is 3.17-3.22
Color: somewhere between L-M-N-O, personally I think she faces up white
Clarity: total agreement VVS2
Cut: Transitional Round Brilliant w/ a culet (Yay) probably a tad shallow 60%+ table but I love the finger coverage
The side stones are single cut and the Emeralds are medium color with lots of inclusions.
Setting is die struck and hand pierced platinum
Ring size is 7
Estimated to have been made in the 1930s at the end of the art deco era. Not a MRB cut for sure.
The competition (1 missed the shot)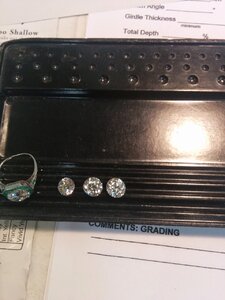 The winner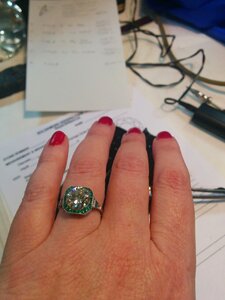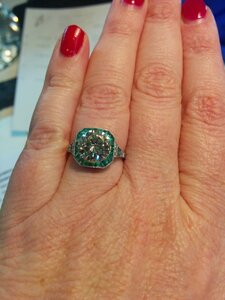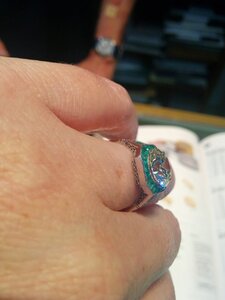 I have since had the prongs re-tipped and the shank replaced, it would bend and then the center stone would rattle and it made me so paranoid.
New prongs who dis?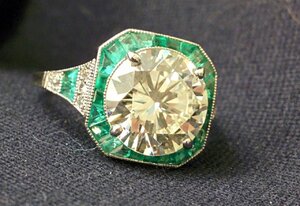 And the succulent shot.