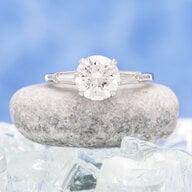 Joined

Jun 15, 2015
Messages

3,441
I am SO excited! One of my very best buds is going to propose to the most amazing gal ever! And he has asked for my (our!) help!
I'll add to this thread after work, but I wanted to get the ball rolling as I am just over the moon with excitement for them

This is her pinterest board:
https://www.pinterest.com/serenity89/vena-amoris/
If people have trouble viewing it, I'll upload screenshots later.
Budget is $1200-1600 USD total. Vintage/pre-owned is A-ok.
I'm seeing a lot of halos, vintage, and emphasis on ovals. Slight preference for silver metals. Woohoo! Let the treasure hunt begin!