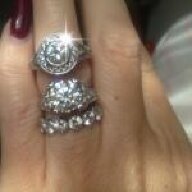 Joined

Jun 21, 2012
Messages

147
Hello! Just wanted to share my new reset/ring! The diamond is the original diamond that DH proposed to me with 29 years ago, as he got down on one knee. The stone has been sitting in my jewelry box untouched for well over 20 years. After giving birth to my firstborn (she is now 22) which coincided with our five year anniversary at the time, DH bought me a 1.51ct round brilliant stone which I had worn every single day until we traded it in this past June toward my current 2.60ct RB which DH gave to me for my 50th birthday.
The stone is a .78ct round brilliant. 29 years ago the stone came with no paperwork so I have no idea on the specs. I do know it has some warmth and it does appear to be about a J in color and it has always been a real sparkler. I decided to bring this very sentimental stone out of the jewelry box and back to life so that I can wear it by having it reset into an antique replica Art Deco filigree setting with bezeled Halo, set in 18 karat white gold with fine millgrain detail. I am very pleased with how the ring turned out. The stone was originally set as a six prong Tiffany style solitaire - and now that it has been reset with a halo surrounding I can't believe the amount of finger coverage! I love it and will wear it every day as a right-hand ring. Some of the pictures are alongside my seven stone anniversary band which I wear on my left hand, but I will not be wearing them together. I only took pictures of them together just for fun as I wear my 2.60 round brilliant alongside the seven stone every day.
Thanks for letting me share!