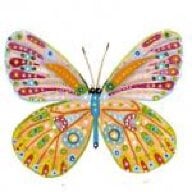 Joined

May 14, 2010
Messages

4,070
Gorgeous!
Thank you
@winnietucker
!
That's another thing I love about working with Victor. He is very willing and eager to collaborate and share ideas, and his creations always have a beautiful aesthetic.
I love how dainty he made your bezel!
True
@Bonfire
, communication with him is easy. I love his aesthetics, the bezel is just as I like!
Your ring is stunning,

@bright ice

! I am so happy you found a diamond that you love (and wow, what a beauty!), and Victor's gorgeous setting showcases it perfectly. You and Victor knocked it out of the park, and the result is epic. Feel free to indulge us with photos whenever you'd like!
Thank you
@carbonfan
, I'm truly smitten with this diamond. She's a firecracker, throws big beautiful colors!
Thank you
@sparlie
!
Fabulous! Congrats on your beautiful ring. I love it.
Thank you
@aac2013
!
Your new diamond is stunning! I love the cushion shape and I love its buttery color! And Victor did an outstanding job with the setting -- it shows off the diamond so well. Enjoy!
Thank you
@RunningwithScissors
, I too love the shape and buttery color.
Thank you @Dmndsr4ever11.
Gorgeous. A stunner! The new setting looks terrific.
Thank you
@caf
, I love the new setting.
@bright ice

wow! Everything I love: big, chunky, old cut , bezeled and buttery!!

congrats on getting JOTW! (and on your beautiful stone & setting!) More pics please!!
Thank you
@CHRISTY-DANIELLE
, she's big, chunky, buttery and full of fire
I'm dying over how huge this bling is...

Wow what a gorgeous ring. Your videos do it more justice than the VC ones.
Thank you
@GliderPoss
, my videos don't do it great justice.
Thud

It's spectacular
Thank you @Austins, it really is!
I don't often get jewellery envy anymore but that is magnificent!!!

Wear her in good health!!
Thank you
@Trekkie
!
I am so glad to see that here! I wanted to see more of it when I saw Victors post. Absolutely stunning, every single part of it. What a gorgeous piece. Congraulations,

@bright ice
Thank you
@luv2sparkle
, more upcoming photos soon.